- Ireland's iconic mountains
Corran Tuathail - For information on walking and climbing routes on Ireland's highest mountain click here.
Mt Brandon - Rising over 3000ft directly from the Atlantic Ocean, Mt Brandon offers incredible views of the Dingle Peninsula and Ireland's west coast. The mountain forms an impressive ridge running from the Conor Pass northwards to the sea at Sas Creek, with impressive cliffs on its eastern flanks and gentler slopes to the west. Mount Brandon has something to offer both novice and fit experienced walkers alike - Guided ascents with group rates from €150.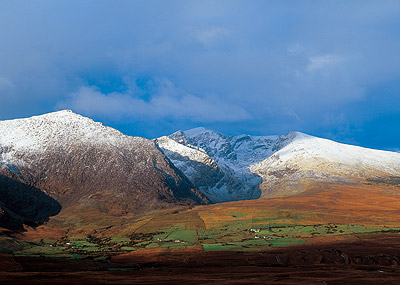 Slieve League - The summit of Ireland's highest seacliff is the jewel in the crown of Donegal's walking routes. Although the walk is suitable for all levels the exposed passage along 'One Mans Path' is sure to get the heart racing - Guided ascents with group rates from €150.
The Twelve Bens - Any visitor to Connemara should take the opportunity to explore these rugged quartzite mountains. From gentle walks through the Inagh valley and along The Western Way, to the tough challenge of the Glencoaghan Horseshoe, one of Ireland's great walks, there is something here for everyone - Guided ascents with group rates from €150.
- Family Walks
With the right approach, realistic challenges, and a healthy dose of enthusiasm hillwalking can be enjoyed by all ages - from children to grandparents! Let us help you find walks you can along enjoy while exploring mountains, lakes, and ancient forests. Interested?... get in touch and we can discuss and design a walk to suit your family.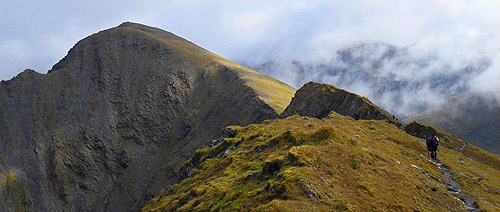 - Challenge Walks
Are you seeking a new challenge in your walking? While there are endless possibilities for venues and walks, there are some routes which have gained a special status in walking lore.
The Coomloughra Horseshoe - Located in the McGillycuddy Reeks, this walk has all that hillwalking can offer. Magnificent views of mountains, lakes and ocean, challenging terrain with a little bit of scrambling and exposure, and perhaps most importantly the opportunity to climb Ireland's 2 highest mountains.
The Glencoaghan Horseshoe - Galways answer to Kerry's Coomloughra! The mountains here are not as high as Kerrys finest but the challenge or experience is certainly not diminished. Taking in 6 of the 12 Bens, this walk offers quite a physical challenge. The rewards however are abundant, as much in the satisfaction of completing one a classic route as in the rugged terrain and beautiful views of Connemara with its dramatic mountains and coastline.
The Mournes Seven Sevens - Taking in the seven 700m summits and mountain tops of the Mourne Mountains, and at almost 30km in length, this is certainly a walk (or run!) that is not for the fainthearted!
The Four Peaks - Loved by charities, this challenge gives you the opportunity to climb the highest mountain in each of Irelands four provinces. Corrantuathail, Mweelrea, Lugnagquilla, and Slieve Donard are all within the compass of novice walkers. With a little bit of guidance they can be completed over a long weekend, or at a more leisurely (and maybe more enjoyable!) pace.
The McGillycuddy Reeks Ridge - Traversing the spine of Ireland's highest mountain range will leave a lasting impression. The route between Kate Kearneys and Lough Acoose in Glencar offers spectacular walking, with a little bit of scrambling. That creamy pint by the fire in Kate's afterwards will never taste so satisfying!
All of the above walks can be guided and arranged for you. Please get in touch to discuss details and rates.